Outfit Details
Belt: from another dress
BAIT Footwear spectators:
ModCloth
This is not how I was initially thinking of styling this dress! This little number of
Elana
's is so pretty (I especially love the polka dot panel on the top), and I had originally thought of taking a much simpler route with this dress. But then it arrived at my house and all I kept thinking was how cute it would look with pink! I'm still a little on the fence with some of the elements I had to use (I'd have preferred to have one uniform shade of light pink, instead of about 3 slightly different ones, plus I'd have preferred a plainer belt), but I think the idea of it is really fun. It reminds me of a small sample of a birthday party -- hence the post title! You can see how Elana styled this dress
here
.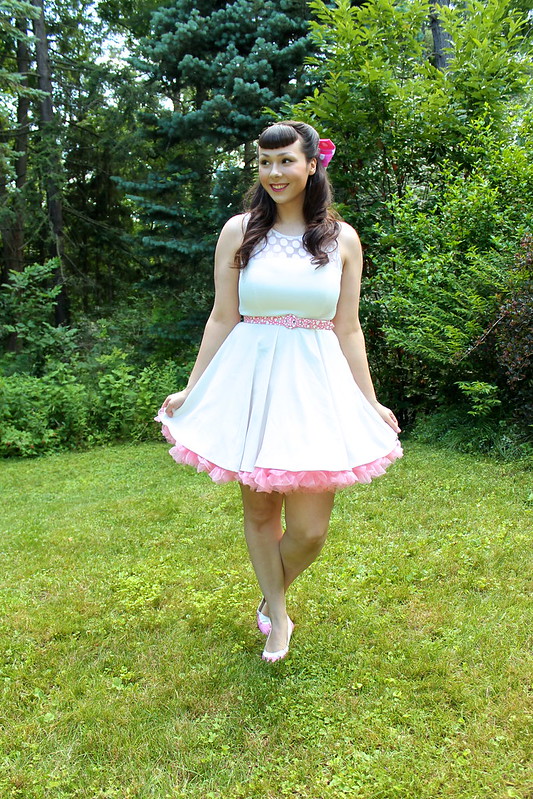 Fun fact: this petticoat was actually something I used in the production of Hedwig and the Angry Inch I was in (and produced and costumed) a couple of years ago. It's technically a much larger size than I'd normally need, but since it's a cheap, elastic-waist, Leg Avenue-type of crinoline, you can't even tell! I also did a little doctoring of my hair bow; it was originally intended to be worn as a headband, and was attached to a strip of black elastic, so that the bow would sit straight up or to the side on one's head. It's a large bow and looked a little too cartoon-ish for my taste, so I decided to get rid of the elastic and attach it with bobby pins, instead. I may eventually put an alligator clip on it, but the pins worked in a pinch! Moral of the story: elastic is a very versatile item.
Have a great Thursday!
xox Sammi