this post
, in which I gave a glowing review of my personalized name necklace, courtesy of Onecklace. I wear my "Sammi" necklace all the time; the quality is top-notch, and the style is perfect for my retro-inspired ensembles. Plus, I can never find my name on pre-made name necklaces, which makes me love my customized piece even more! Onecklace has a great
website
of their own, but they've also just opened up their own
Etsy store
! I'm obviously a huge fan of Etsy, and I think it's a great platform to promote their high-quality jewelry. The kind people at Onecklace actually contacted me about picking another item for review, but I opted instead to work with them in another way:
a giveaway for my lovely readers!
Hooray!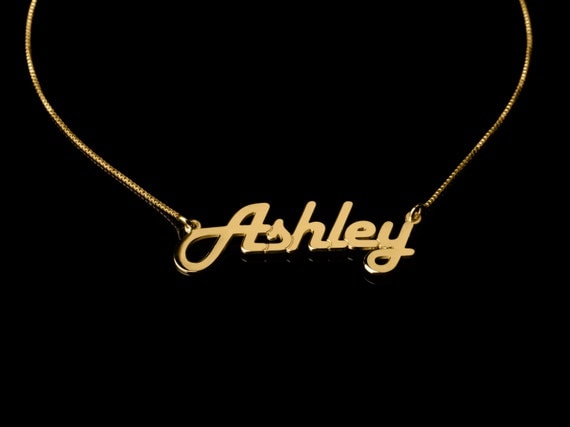 One
lucky follower will receive a
customized necklace
in the same style I have, which is the 24k gold-plated name necklace in their "Italic" style (seen
here
). It's truly the perfect typeface for any vintage-loving gal. You can customize your chain length, too (I chose the 18" one, myself), and obviously, you can have it say whatever you'd like! Just enter the Rafflecopter below to be entered to win!
The details
: Giveaway starts at 12:00 AM (EST) on Monday, May 26th and will end at 12:01 AM EST on Saturday, May 31st. You must be a follower of The Soubrette Brunette (no immediate unfollowing after the giveaway ends, please!), and you must leave a blog post comment with your favorite item from the
Onecklace Etsy shop
. The winner will be announced no later than Monday, June 2nd. Please remember to leave an e-mail address in your comment so I can contact you if you win!! Best of luck! :)